Travel Information
How to reach Rostock…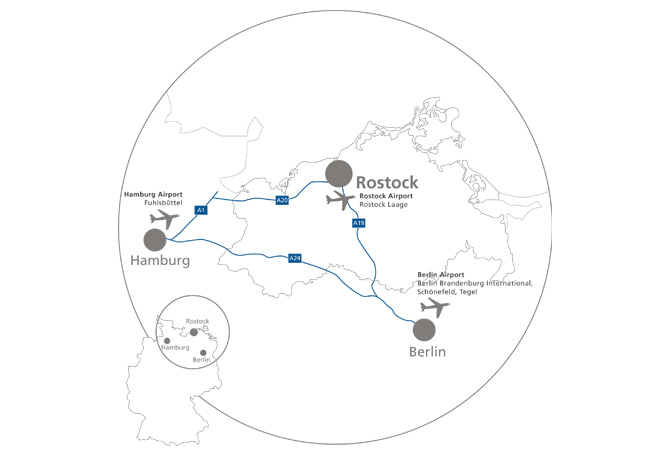 … by Car
To reach Rostock from Berlin, head north or south out of the city to the A10. Follow it northwest to the A24, which leads straight into the A19 running directly north to Rostock (2,5 hours).

… by Train
There are frequent direct trains to Rostock from Berlin and hourly services from Hamburg. Find your connection here www.deutschebahn.com. Attention! the rail between Berlin and Rostock is under construction. The train takes between 2,5h up to 5h to reach Rostock.

… by Boat
There are ferry services to Denmark, Sweden and Latvia, as well as to Estonia and Finland in summer. Fares are quite complicated depending on the season and the number of people travelling, so the following are provided as rough high-season guides only.


Scandlines
www.scandlines.eu
travels to Gedser, Denmark, Trelleborg in Sweden and Ventspils, Latvia.

TT-Line
www.ttline.com
sails to/from Trelleborg.


Boats arrive and depart from the overseas seaport (Überseehafen), which is on the east side of the river Warnow. There is an S-Bahn from Seehafen to Rostock main station, but it's a 20-minute walk from the station to the piers.

… by Air
Rostock's airport, Rostock-Laage


has a sparse number of scheduled services to and from Cologne-Bonn, Dortmund, Munich and Zürich, plus different charter flights.

We will offer a shuttle bus service, please contact the conference organizer.